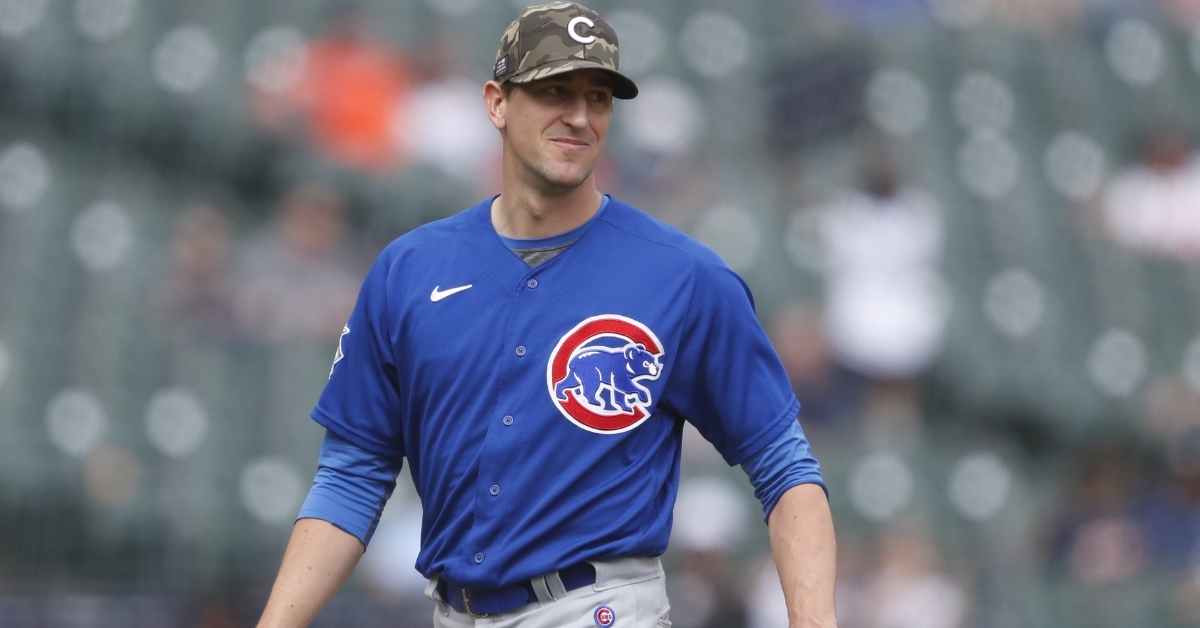 | | |
| --- | --- |
| Kyle Hendricks set to rejoin rotation against Mets | |
---
| | | |
| --- | --- | --- |
| Thursday, May 25, 2023, 10:06 AM | | |
The 'Professor' is in session.
The Chicago Cubs will welcome back a familiar face to their starting rotation as Kyle Hendricks returns to the mound against the New York Mets on Thursday.
After a period of rehabilitation, minor league work, and a bullpen session at Wrigley Field this week, the right-hander is ready to contribute to the team's quest for a series sweep of the New York Mets.
In his last three outings at Triple-A Iowa, Hendricks pitched to a 1.69 ERA with 14 strikeouts and two walks over 16 innings.
Cubs President of Baseball Operations Jed Hoyer, expressed his excitement about having Hendricks back in action ready to make an impact as one of the leaders of the team.
"Just exciting to get him back," Cubs president of baseball operations Jed Hoyer said of Hendricks, who opted against having surgery to repair the capsular tear in his shoulder. "He's the perfect teammate. I think everyone's excited to have him back and on the mound here."
Hendricks has fared quite well vs. New York, going 4-0 with a 2.10 ERA in five career regular-season starts.
"There's a lot of confidence when he steps foot on the bump, and he's healthy," Ross said recently about Hendricks.
Hendricks, a 33-year-old veteran, has been a steady presence in the Cubs' rotation since his debut in 2014. Throughout his career, he has accumulated an impressive 87-61 record with a 3.46 ERA in 224 games.
His experience and consistency make him a valuable asset for the Cubs as they strive to get on a hot winning streak.
For what it is worth --

Kyle Hendricks is the most enjoyable MLB rehabber I've been around working in baseball.

Just one of the guys with the team, couldn't be more helpful and kind to the staff and local media.

He lived up to the hype and much more.

Easy human to root for.

— Alex Cohen (@voiceofcohen2) May 25, 2023
Kyle Hendricks had a 2.83 ERA and .643 OPS allowed throwing to Yan Gomes last season (35 of his 84 1/3 IP, 6 of his 16 overall starts).

I'll leave it at that. https://t.co/7U4qJ3XB7a

— Matt Clapp (@TheBlogfines) May 25, 2023
Cubs pitcher Kyle Hendricks will be activated off the injured list and start Thursday night against the Mets at Wrigley Field. Jameson Taillon is now lined up for Saturday vs. the Reds.

— Patrick Mooney (@PJ_Mooney) May 25, 2023
Feeling nostalgic about Kyle Hendricks' return since he's the final remaining (playing) link to 2016.

Here is the lineup for his MLB debut on 7/10/14:

Coghlan, LF
Alcantara, 2B
Rizzo, 1B
Castro, SS
Valbuena, 3B
Sweeney, CF
Schierholtz, RF
Baker, C
Hendricks, P pic.twitter.com/ht1e7DxCir

— Daily Random Cub (@DailyRandomCub) May 25, 2023