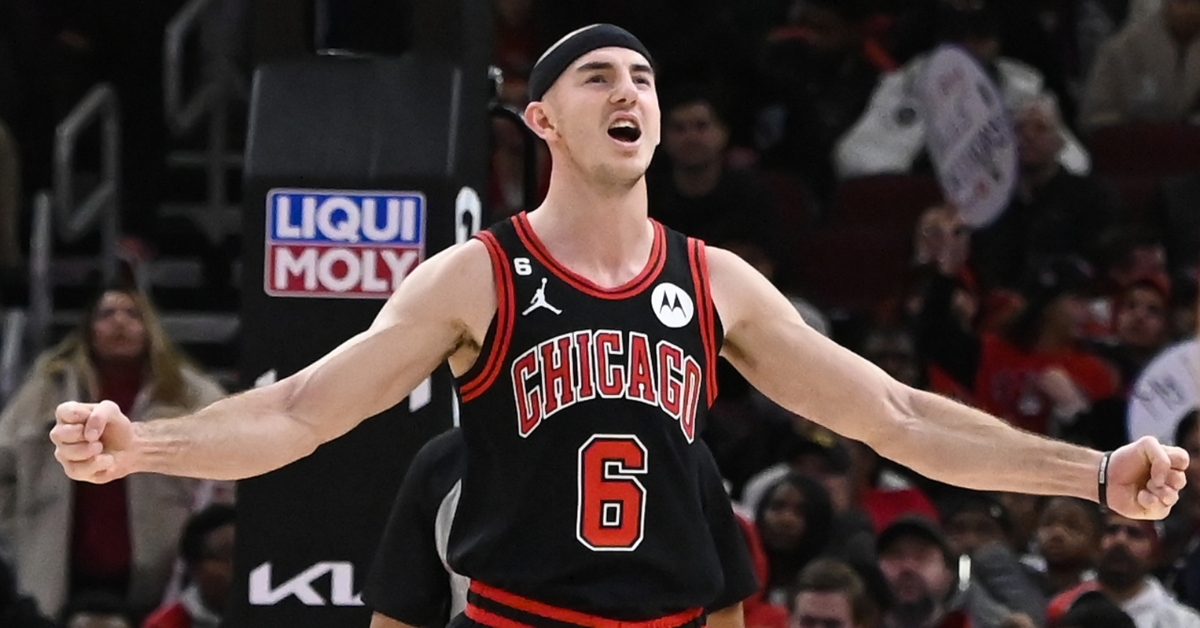 | | |
| --- | --- |
| Bulls clutch in win against Hawks | |
---
| | | |
| --- | --- | --- |
| Tuesday, January 24, 2023, 8:03 AM | | |
CHICAGO - In their first game since returning from Paris, the Chicago Bulls (22-24) looked to stay hot as they entertained the Atlanta Hawks (24-24). Both of these teams are battling for playoff spots right now, but the Bulls have been playing their best basketball of the season lately.
Despite a lackluster first quarter that saw Chicago held to 17 points and trailing by four, they turned things up in the second as they erupted for 40 points to race out to the nine-point halftime lead. Once again, it was a rough third quarter that helped the Hawks get back into the game as they outscored the Bulls by nine to tie things up 78-78.
Looking to put the Hawks away for good in the fourth, Chicago not only stepped up offensively but defensively also as they did what they needed to do and picked up another big win 111-100. In just his second game back from a lower leg injury, DeMar DeRozan continues to put up big numbers as he looks just as healthy as he did before getting hurt.
Not only did he lead all scorers with 26 points, but once again, he knocked down better than 50% of his shots as his shooting touch from last season is starting to come back. A big reason for the Bulls recent turnaround has been a much more balanced attack which continued to show up on Monday. Zach Lavine has been playing great over the past month and put up 20 points despite a rough night shooting the ball.
You also had Nikola Vucevic continue to go about his business as he posted another double-double with 14 points and 17 rebounds. However, it was a rare big night from the third-year man Patrick Williams who is starting to look like the No. 4 overall pick. Don't get me wrong, Williams has struggled in his first three seasons, but you have to take last season out of the picture as he was injured all, but seven games.
This season saw him get off to a really slow start, but he is now starting to come into his own and look like the Player the Bulls expected him to look like. Not only did he finish third on the team with 18 points, but he also posted a double-double with 10 rebounds, as that aspect of his game is often overlooked.
With Ayo Dosunmu only coming away with two points, it was up to the bench to pick up the slack, and that they did as they came away with 31 points from the second unit. 22 of those points came from Alex Caruso and Coby White, as Caruso finished with 12 points while White added 10. Those two combined for five steals, as they were all over the Hawks defensively in this one.
As expected, the Hawks were led by Trae Young, but it wasn't a typical Young game against Chicago. For his career, Young averages better than 34 PPG against Chicago, which is the highest total against any team. The Bulls made sure to make him earn his points in this one, as he finished with just 21 and went 0-5 from deep.
DeJounte Murray added 20 points with seven rebounds as he continues to provide a solid 1-2 punch with Young at the Guard position. While those were the leading scorers for Atlanta, the Hawks still had four other players in double-figures, with all five of their starters hitting that mark.
Clint Capela put forth a massive night on the floor as he battled with Vucevic on the inside for 16 points and 12 boards. John Collins added 11 points with nine rebounds, while Bogdan Bogdanovic struggled shooting the ball all game long and finished with just 11 points. The Hawks also saw AJ Griffin add 11 points off the bench, but he was their primary scorer on the second unit and outscored the rest of the Hawks bench by himself in the loss.
The Bulls return to the floor Tuesday night when they travel to take on the surprising Indiana Pacers.