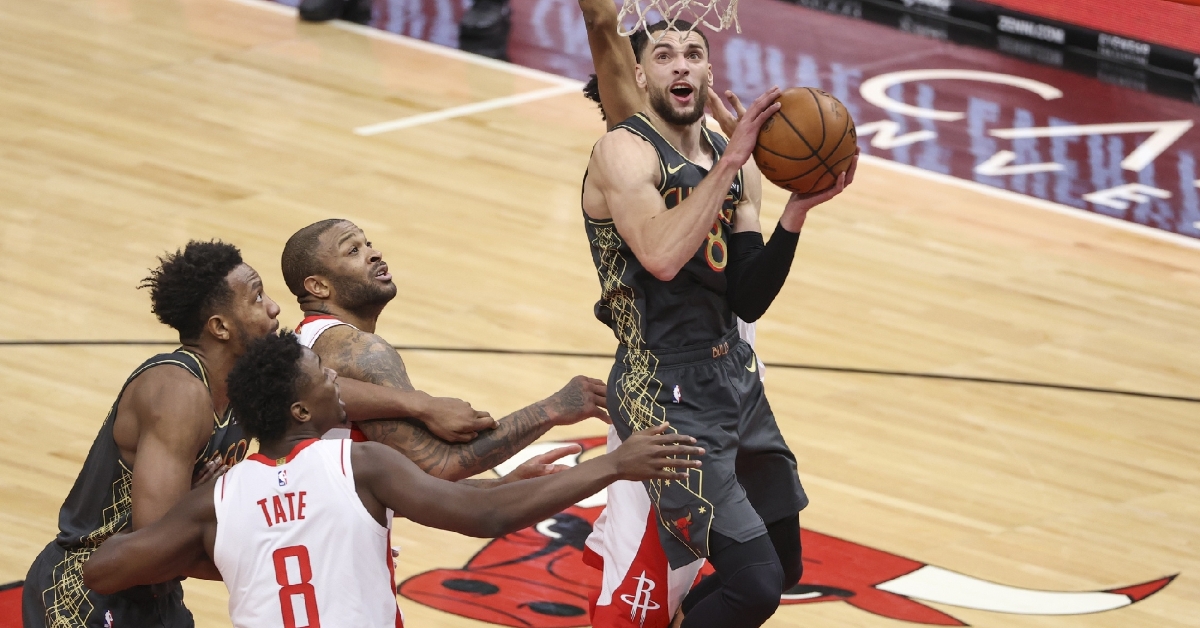 | | |
| --- | --- |
| Bulls win for their best start in four seasons | |
---
| | | |
| --- | --- | --- |
| Tuesday, January 19, 2021, 10:09 AM | | |
The Chicago Bulls continue to face early season adversity as they have yet to be fully healthy.
After recently getting both Lauri Markkanen and Ryan Arcidiacono back, both Patrick Williams and Otto Porter Jr. were unavailable for last night's contest with the new-look Rockets. Despite the constant lineup changes and a team yet to play at full strength, the Bulls continue to battle through adversity topping the Rockets 125-120 at the United Center.
Fresh off his season-high 21-point effort on Sunday, Garrett Temple got the start in place of Williams and opened the scoring with a three. That was just the beginning of a balanced scoring attack early that saw Coby White and Wendell Carter Jr all chip in for the quick 7-3 lead. One of the young season's biggest surprises has been the play of Christian Wood, and he continued that against the Bulls. His mix of size and athleticism made him a threat all over the floor and proved to be a tough matchup at times.
After trailing 7-3, Wood got the offense started as he teamed up with Eric Gordon and newly acquired Victor Oladipo to give the Rockets a 10-9 lead. That lead was short-lived as Markkanen and White helped the Bulls go on a quick 6-0 run to retake the lead once again 15-10. Now up four following a Temple jumper, the Bulls second unit continued to impress as it was their turn to take the floor.
Led by Thaddeus Young, Daniel Gafford, and Denzel Valentine's strong play, the Bulls bench entered the game and immediately put on a 10-0 run to take a 15-13 game and stretch it out to 25-13. The bench continued to deliver fireworks, with Arcidiacono hitting a three just inside half court to beat the first-quarter buzzer with the Bulls leading 28-16.
Chicago continued to dominate the early portion of the second quarter, with Gafford and White pushing the lead to 17. That was the largest lead of the night for the Bulls as they had complete control. Consecutive threes from Gordon closed the gap to 11 before another three from Jae'Sean Tate brought things to single digits. The Bulls continued to do their thing offensively, pushing the lead back to 16 following buckets from Markkanen and Zach Lavine, who led all scorers with 33.
?? @ZachLaVine's 33 PTS and 7 AST power the @chicagobulls! #BullsForever pic.twitter.com/KvMIGBm3Vm

— NBA (@NBA) January 19, 2021
Midway through the second saw Oladipo start to take over for Houston as he was providing instant offense on the floor. Thankfully for the Bulls, Lavine, and Valentine matched that intensity as Chicago held a comfortable 64-52 lead at the half.
The third quarter has been an issue for the Bulls this season, and after Temple opened the second half with a three, it looked that way again. With Oladipo continuing to display his full arsenal, guys like David Nwaba started to get involved in the offense as Houston was within 10. Those two continued to lead the charge before a Wood layup made things 71-68.
In need of offense, Markkanen delivered with a corner three only to have Wood and Oladipo respond to keep things within one possession. Lavine tried to bring the Bulls momentum back with an impressive dunk, but Gordon had other thoughts striking right back with a three. Both Lavine and Valentine answered that three, with threes of their own, and once again, the Bulls led by double digits before carrying a 93-86 lead into the fourth.
For the first time in the game, the Rockets came out strong to start a quarter with Ben McLemore and Tate getting things going. Valentine responded with another three to continue his hot shooting ahead of an Arcidiacono Three to keep things eight points. Mason Jones connected on a jumper to bring things within six, but once again, Young and the bench had other ideas pushing the lead back to nine before a White three extended it to 12.
Down by 12, it was time for Wood and Oladipo to put the team on their shoulders as the duo sparked an 11-4 run to close the gap to 111-106 with just over three minutes to play. Sensing momentum shifting the Rockets way, Young connected on a massive three but was answered by P.J. Tucker and Oladipo as we had a three-point game.
Coming off his lowest point total of the season, Lavine had an excellent bounce-back game, although it was a very quiet 33-point night. He picked up several clutch free throws down the stretch to go with a Markkanen bucket, and the Bulls built their lead back up to eight with less than a minute to go. The Rockets refused to go down quietly as both Wood and Gordon would hit shots down the stretch. However, that was just stat padding at that point as the Bulls held on for the 125-120 win.
Chicago continues to be a work in progress defensively, but their offense has played at an elite level this season. They are now 6-8 and will be in the race for the final postseason spot all year. The Bulls won't return to the floor until Friday when they hit the road to take on Charlotte's Hornets.
Final numbers from tonight's W ??@ZachLaVine - 33p/4r/7a/2s/1b@MarkkanenLauri - 18p/7r/2s@GTemp17 - 13p/2r/2a/1s@denzelvalentine - 13p/8r/3a@yungsmoove21 - 12p/9r/3a/1s@wendellcarter34 - 10p/8r/1a/1s@CobyWhite - 10p/4r/4a/2s@RyArch15 - 9p/2r/2a@Dan_G33 - 7p/3r/1a/1s/2b pic.twitter.com/gFH5HojzP6

— Chicago Bulls (@chicagobulls) January 19, 2021