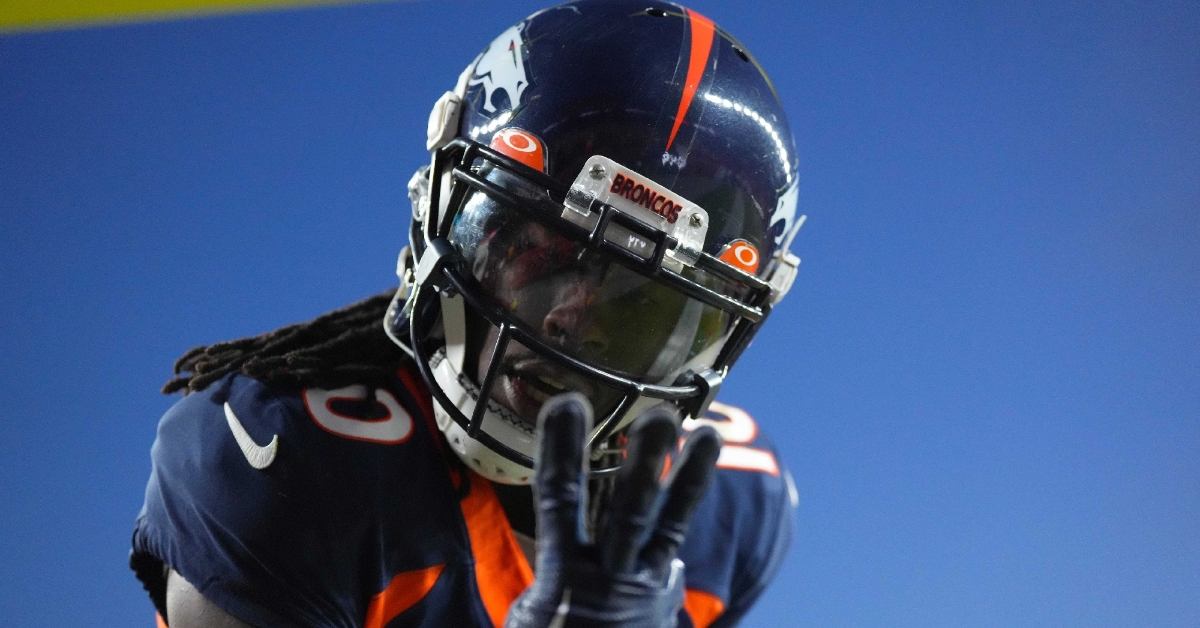 | | |
| --- | --- |
| ESPN projects Bears trade for standout WR Jerry Jeudy | |
---
| | | |
| --- | --- | --- |
| Tuesday, January 24, 2023, 1:00 PM | | |
Don't you love this part of the NFL offseason? From not watching Bears football, to listening to constant rumors about what this team will and won't do, the NFL offseason is always full of twists and turns. The one thing we do know about the Bears and their offseason is that they will be a team to watch.
From having the No. 1 overall pick to having the most money to spend of anyone this offseason, the Bears could be on the verge of doing some serious damage in the coming months. When you look at how this roster was, and you could say still is constructed, many holes need to be addressed.
One of those holes is on the offensive side of the ball, where the Bears need more playmakers to help Justin Fields become a better overall passer. Because of that, many people expect the Bears to target WR help in either the free agent market or via a trade.
The fans are not alone in that argument, as ESPN predicts the Bears will trade for a WR and could also trade for a first-round talent to help out Fields. While there are plenty of names to consider, the one name being brought up the most recently is Jerry Jeudy, as he would be a massive addition to Chicago's offense.
"The Bears will trade for a wide receiver," ESPN said. "One great candidate would be the Broncos' Jerry Jeuday, a 2024 free agent. Denver might not have the cap space to retain him, and he'd be a big boost to Chicago's offense."
The 6-1 194-pound speedster from the University of Alabama was a first-round pick in 2020 and has played his entire NFL career with the Denver Broncos thus far. When he came into the league, Jeudy was supposed to be what Justin Jefferson has become, given his unique combination of speed, agility, and overall size at the WR position.
Instead, you have a guy that has put up good numbers, but not great, as his time in Denver could be coming to an end. Unlike most people who want to sit here and blame him for not producing better, it is not entirely his fault, as he hasn't had much to work with in Denver thus far.
From Drew Lock to a struggling Russell Wilson, Jeudy has yet to have an opportunity to play with a legitimate QB, so we have no idea how good his numbers could be when that happens. Still, this guy has nearly 2300 yards receiving through three seasons, but has struggled to find the endzone as he has just nine touchdowns to his name.
Looking at the yardage, most fans wonder why the Bears would be interested in him. Keep in mind he missed a lot of time in 2021, where he finished with a career-low 467 yards and no scores. That came after a great rookie season when he had 856 yards and three touchdowns. Despite Wilson's struggles with the Nathaniel Hackett offense in Denver this season, Jeudy went on to have his best season to date, which bodes well for him if he does get traded.
Across 15 games, Jeudy hauled in 67 catches for 972 yards and six scores. Those are career-high numbers across the board and had he played in just one more game, he is most likely a 1000-yard receiver. Having an opportunity to trade for a first-round talent doesn't come often, but when it does, and it fits an area of need, you would be foolish not to make it happen.
Should the Bears pull off this trade, it would immediately help Fields and his passing game, as Jeudy would be the No. 1 on this team. Given his speed, Fields could show off that arm by using him in the deep passing scenario. You also have a guy who can make things happen out of nothing, which is where the screen game could come into play.
With Darnell Mooney and Chase Claypool as the most likely options for 2023, Jeudy would fit right in and give the Bears one of the youngest and fastest WR groups in the NFL. Pair that with Fields, who should be better in the passing game, and the Bears offense has the potential to be lethal for years to come. This is a story to watch for the next several months.
https://www.youtube.com/watch?v=aLp4hp1RsaE