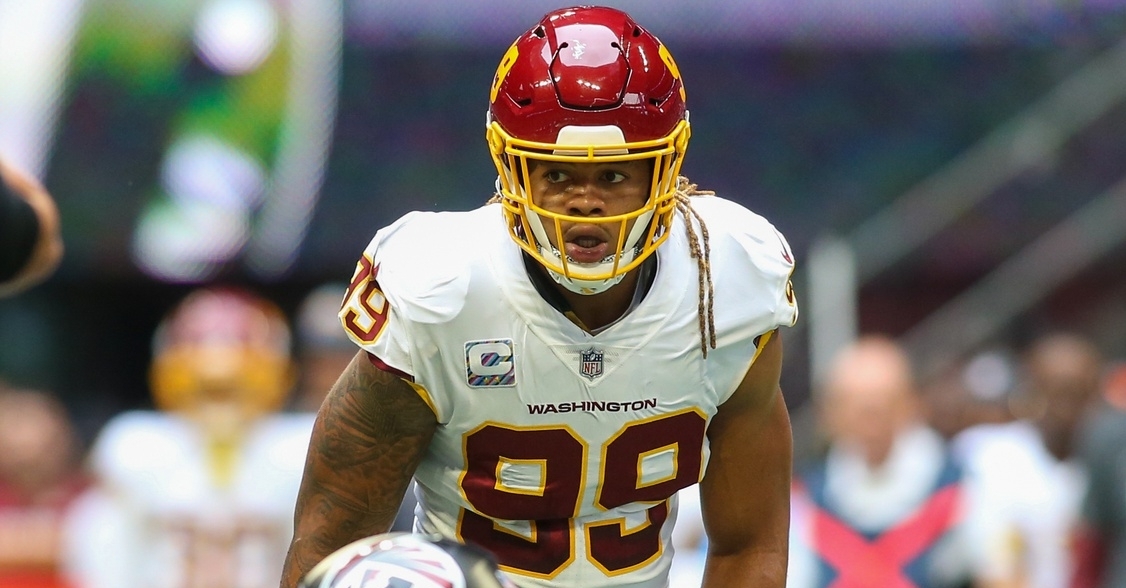 | | |
| --- | --- |
| Rumor: Bears trying to land elite pass rushers | |
---
| | | |
| --- | --- | --- |
| Tuesday, May 16, 2023, 12:11 PM | | |
While the Cubs may not be winning much of anything right now, at least some positive signs are coming out of Bears camp, which is a breath of fresh air if you ask me. With most teams winding down their rookie mini camps, it is almost time to focus on training camp, which will start in roughly two months.
When it comes to the Bears, they are open about adding some more defensive talent on this team, as they would still like to add a veteran pass rusher to the defensive side of the ball. Who, or what that looks like, is another story, but the Bears will continue to figure things out to put the best team on the field by week 1.
In a recent interview with 670 The Score in Chicago, Ryan Poles was directly asked if he was looking to add a pass rusher to the 90-man roster and one capable of landing on the 53-man week one roster. His response was a resounding "We're working on it," which means he will do what he needs to do to get a deal done.
Although there are some big names in free agency, unless the Bears land Yannick Ngagkue who they have been rumored to be in on all offseason, are there any other names worth pursuing on the open market?
Knowing the possibility of the free agent market going quiet, Poles and his staff have begun evaluating the trade market and looking at names worth acquiring.
The one team that is constantly coming up is the Washington Commanders, and it is coming up for a variety of reasons. Say what you want about the Commanders and their organization. The bottom line is they have a great defense with plenty of young talent, including two excellent pass rushers.
Montez Sweat is one of them who will be playing on his fifth-year option in 2023 before hitting the open market next season. The former first-round pick from Mississippi State has averaged more than seven sacks per season in his four years, with a career-high nine sacks coming in 2020. He has 29 sacks and could be on the verge of breaking out in 2023.
With this being his contract year, it makes sense for the Commanders to consider trading him should the team struggle to win games again this season. At that point, you have to face the reality that Washington is going to be out of the playoff picture and are going to try and build a franchise set up for long-term success. With no clear answer at the QB position, trading away assets may help them land a franchise QB while acquiring significant draft capital to help them.
Along with Sweat comes an even more intriguing name to discuss in former No. 2 pick Chase Young. Unlike Sweat, who will be playing under his fifth-year option this season, Washington declined Young's fifth-year option, making him a free agent this season. Young will not only be the most prized free-agent edge rusher next season, but he is the biggest name being talked about in trade conversations.
When you look at his career numbers, you can see why the Commanders have declined his fifth-year option, as he only has nine sacks in three seasons. 7.5 of those came as a rookie, with only 1.5 in the past two seasons. A big reason for that has been health, as Young played in three games last season and has been limited to just 12 games the past two years. If he can stay healthy, Young is a game-changing player that will give you double-digit sacks in the right system.
Washington has a lot of players on defense, and they had to choose who to keep and who to get rid of. By signing Daron Payne and Jonathan Allen to long-term deals, it almost makes it impossible for both Sweat and Young to return after this season as one, if not both, should be gone. Not only do the Bears know that, but so does the rest of the NFL, as those two will be pursued heavily all season.
If the Bears are serious about improving their defense, especially in the pass rush, they need to get on the phone with Washington and see what it would take to make something happen. Chicago has the assets the Commanders want regarding draft capital, and a move like this could be a win-win for both sides.