| | |
| --- | --- |
| Takeaways from Blackhawks loss to Hurricanes | |
---
| | |
| --- | --- |
| Tuesday, May 4, 2021, 11:27 AM | |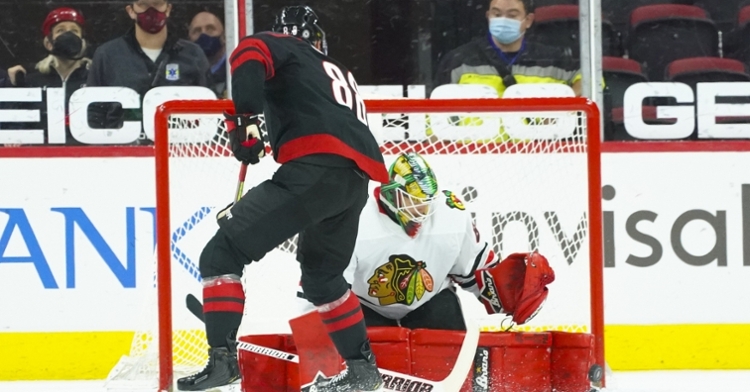 We said it last week regarding the Chicago Blackhawks. Although they are all but eliminated from playoff contention, they can play spoilers the remainder of the season, which all started with Florida last weekend.
Granted, they only earned one point in that series, they still played hard and now turn their attention to Carolina, looking to lock up the Central Division. With just four games left in the regular season, the Hurricane has a chance to secure four more points against a struggling Chicago team after picking up a 5-2-win last night to claim two more points.
Chicago was unfortunately never really in the game, and that doesn't bode well when taking on the best team in your division. It wasn't Kevin Lankinen getting the start but instead Malcom Subban, who was roughed up in a big way. Not only did he give up a pair of goals to Dougie Hamilton and Martin Necas in the first period, but Subban then allowed Sebastian Aho to light the lap twice to start the second period putting Chicago in a 4-0 hole.
That paved the way for Collin Delia to enter the game in relief of Subban, and he was one of the rare bright spots on the night. With less than two minutes to go in the second, Ian Mitchell got the Blackhawks on the board, taking a Dominik Kubalik and Dylan Strome assist for his third goal of the season. Chicago continued their comeback effort in the third when Alex DeBrincat put home his 26th of the season to make things 4-2. That would be as close as things would get as Aho finished off the hat trick to seal the deal in Carolina's 5-2 win.
A pleasant surprise from Delia
All season long, it has been either Subban or Lankinen in goal, with Delia lost in the shuffle. Delia started the first game of the season and saw playing time early on. His struggles were evident, and he hadn't seen time on the Ice since late January. With Subban having a rough night last night and Lankinen continuing to struggle, it was an excellent time to deploy Delia, and he played well.
After Chicago fell behind 4-0, Delia came into the game and stopped all 19 shots he faced. He single-handedly kept Carolina off the board and gave the offense a chance to mount a comeback. That comeback never came as the offense couldn't generate enough scoring, but his performance is worth noting.
Given the situation and where the Blackhawks currently sit in the standings, they honestly should play Delia a little more down the stretch. The team knows what they have in Lankinen and Subban, but Delia could be an X-factor for next season. He could provide the Blackhawks with not only a nice pairing with Lankinen but an extremely young goaltending duo to build around. That will be the start of replacing Corey Crawford and should mount to another postseason run sooner rather than later.
Alex DeBrincat seals team MVP
When news broke that Jonathan Toews would miss the start of the season with an undisclosed illness, no one expected it to be as bad as it got. Toews never got on the ice this season, and Chicago lost one of their primary offensive weapons even before the regular season started. With guys like Patrick Kane expected to shoulder an even bigger load, other players had to step up, and DeBrincat certainly has.
While Kane has put together one of his best seasons in a while, the goal-scoring numbers have been down from what they were the first half of the season. The same can't be said about DeBrincat as he is closing in on 30 goals with just four games left to play. Keep in mind, his 26 goals lead the team, and this is during a shortened season.
There is a realistic possibility that he could have hit 40 goals this season if it were a regular 82 games, and that is a feat not many Blackhawks reach. DeBrincat is the MVP of the team this season, and it isn't close. He has been the leader on offense and has often put the Blackhawks on his back to ignite a scoring rally.
Both Kane and Toews may be the heart and soul of this team, but DeBrincat is the future piece to build around. His scoring ability has improved every season, and it will only get better with more pieces around him. Chicago has a great one in him, and it is time they realize how good he is.
Aho carves up Chicago
Even before scoring his hat trick last night, Aho was having a great season and has been a big reason why Carolina leads the central. After his three-goal performance, it is evident he has the Blackhawks number as that gives him seven goals in six games against them this year.
With two more games left this week, could Aho reach 10 against Chicago? As impressive as that is, it must make you think about what would happen if the Blackhawks could take him out of a game. They have plenty more than just him, but when he touches the puck as often as he does, maybe it would get this team out of rhythm.
For the most part, Chicago has done an excellent job slowing him down, but last night was not the case. Given the situation that the Hurricanes are in regarding the playoff hunt, look for him to be the focal point for their offense the rest of the way and perhaps take games over. If Chicago wants to earn any points against Carolina this week, he needs to be shut down, and Chicago must let others beat them.