| | |
| --- | --- |
| Takeaways from Red Bulls win over Fire | |
---
| | |
| --- | --- |
| Sunday, May 2, 2021, 8:47 AM | |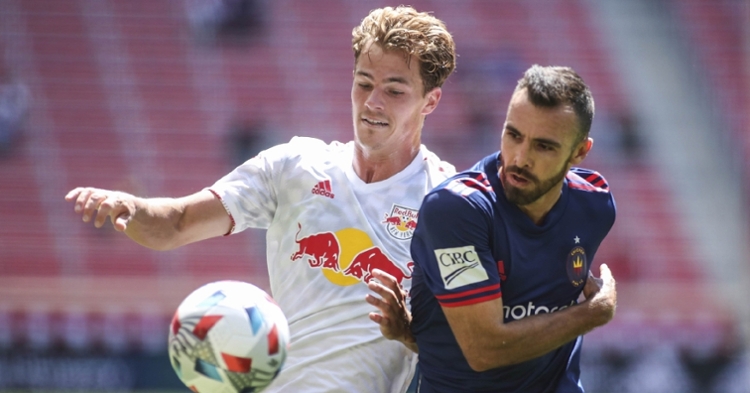 We are just three games into the 2021 MLS regular season, and a lot of the Fire's past issues are already starting to show. From inconsistent scoring to the inability to win games on the road, things have not gone as planned as the Fire has started their new season with a 0-2-1 mark.
With a chance to pick up a much-needed win against a winless Red Bulls squad on Saturday, the Fire dominated the time of possession as they seemed to dictate the tempo right from the start. Unfortunately for them, they could not generate enough good scoring chances, and the ones they did, Carlos was there to make the save.
Firekeeper Bobby Shuttleworth was strong in his own right keeping the Red Bulls off the board in the first half as the teams played to a 0-0 draw after 45 minutes. That all changed in the second half when New York struck first just two minutes in as Cristian Casseres Jr gave the Red Bulls the 1-0 lead, which proved to be the game-winner.
Following that goal, it seemed as if the Red Bulls had all the momentum as they were now getting great looks on Shuttleworth. New York doubled their lead in the 64th minute on Caden Clark strike, putting Chicago in a 2-0 hole. With a chance to draw even a few minutes later, Robert Beric was turned aside as that was the last great look for the Fire as they drop another road contest 2-0.
Figure out how to win on the road
Over the past four seasons, the Chicago Fire have struggled to earn points, and playing on the road is a big reason why. They have been one of the better home teams, but the problem has been on the road, where they have won a total of just six road games in the past four seasons to go with only a couple of other games where they earned points.
No one is asking this team to go out and be a .500 team on the road, although that would be an excellent mark. All fans are asking is for this team to be more competitive on the road to earn some points here and there. To put things into perspective, this team missed the playoffs by just two points last season despite earning just five points away from home. Imagine how good this team can be if they solve the road woes.
Need more offensive firepower
No one will argue that the duo of Beric and Luka Stojanovic are as lethal as they come when it comes to scoring goals, but that is about all Chicago has. Through three games, the Fire have scored a total of three goals, and both these men are responsible for those goals.
For Chicago to take that next step, they need other players to pick up some of the slack and start pouring in some goals. Losing CJ Sapong certainly hurt them this offseason, as he was another one you could count on to find the back of the net. Guys like Alvaro Medran, Przemyslaw Frankowski, and Mauricio Pineda can all be high goal scorers for this team.
The problem is, they haven't been able to capitalize on the chances they have been given. Neither Sapong nor Nemanja Nikolic will be walking through that door anytime soon, so these players need to start balancing out the score sheet a bit more.
What happens to Shuttleworth come July?
For the past 10 months, Shuttleworth has not only taken over the starting goalie duties but has performed well in most cases. He has done a great job keeping his team in games despite the lack of overall offensive outputs from his team.
Once the calendar flips to June or at the very latest July, the Fire will be faced with an interesting decision that could have implications on Shuttleworth. Around that time, starting keeper Kenneth Kronholm is supposed to be back after tearing his ACL last season. Kronholm is widely regarded as one of the top keepers in the world and has been a force with the Fire even if the wins translate.
Shuttleworth has earned the starting job given his play over the past 10 months but had Kronholm not gotten hurt, and we wouldn't be having this conversation. I expect Shuttleworth to be used at least to get Kronholm up to speed, but once that happens, it could be Kronholm's job to lose once again.