| | |
| --- | --- |
| Cubs Prospect Focus: Eury Ramos | |
---
| | | |
| --- | --- | --- |
| Tuesday, January 18, 2022, 12:00 PM | | |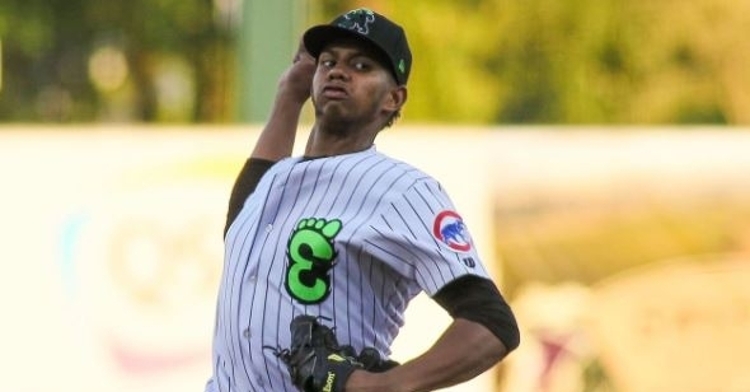 Typically when you think of a prospect, what comes to mind is a young minor leaguer with the potential to be a big-league player. The Cubs have had their share of prospects over the last seven years, with many of them contributing to the major league roster. On the flip side, there has also been a large number that hasn't developed at the pace the Cubs would have liked, which brings their futures into question.
One of those prospects whose future is in question is right-handed pitcher Eury Ramos. Now 24 years old, Ramos is no stranger to the Cubs system and is one of the longest-tenured players in the organization. An international free agent at one point, Ramos has been in the Cubs organization for seven years now, making his professional debut in 2015.
Ramos has shown some promising moments on the mound throughout that time, but for the most part, his tenure has been mixed with inconsistencies, leaving his future with the organization in doubt beyond this year. Ramos debuted in 2015 as part of the DSL Summer League. 17 years old at the time, Ramos appeared in 14 games that summer, including four starts, and posted a 0-1 mark with a 4.41 ERA. His 13BB/24K was not surprising for a young kid, but was better than where the Cubs expected him to be at the time.
One year later, Ramos was back in the DSL and was off to a great start before an injury cut his season short. Ramos compiled 10 innings in three games, going 0-1 with a 3.60 ERA. His command was a little iffy at times, but he did a great job limiting the damage. 2017 saw Ramos arrive stateside for the first time pitching for both AZL teams. Once again, Ramos was a busy man pitching in 13 games, three of which were starts and going 2-2 with a 4.78 ERA.
It wasn't until 2018 when he got out of rookie league ball, landing in Eugene for short-season ball that year. Ramos started a career-high nine games that season and threw a career-high 44 innings, which was a good thing. His results weren't good, as he posted a 2-5 record with a rough 6.29 ERA. The 21BB/41K was a pleasant surprise as his command improved, but everything else was a rough go that season.
Things were even worse in 2019 as Ramos posted a 1-3 record with a 7.91 ERA across eight games as he was starting to earn the reputation of a bust. Following two rough seasons and a lost season in 2020, Ramos returned to the mound in 2021 and looked like a completely different pitcher. Sometimes it takes pitchers a little while longer to figure things out, and maybe this season was the first indication that Ramos started to figure things out.
After starting the season with High A South Bend, Ramos was promoted to AA Tennessee, where he will most likely begin in 2022. Ramos appeared in 32 games, all in relief, and threw 41 1/3 innings for the second-highest of his career. Although his 0-3 record wasn't ideal, his 3.92 ERA was a step in the right direction as Ramos started to show plenty of potential on the mound.
Going a bit further, you can see his command significantly improving where he had 18BB/46K while he collected six saves in nine chances. Last year, Ramos may have emerged as a middle-late inning option for the low-level minor leagues, but he must now carve a more defined role for the Cubs to gauge a complete grasp on his future and potential.
Ramos is tiny for a pitcher at 6-3 and 170 pounds, even though he gained nearly 20 pounds of muscle since being signed. The Guananico Dominican Republic native Ramos was one of the Cubs International Signings in 2015 and has been with the organization ever since. He can make up for what he lacks in overall size in pure stuff, as Ramos fits the mold of a lot of the Cubs pitchers lately.
Ramos is known for his live fastball, which sits in the 94-96 range, but has touched 97 and even 98. Not only does he have a live fastball, but it comes out of his hand effortlessly and jumps on hitters in a hurry. Mix that delivery with a low release point, and if Ramos can show more consistency, he can be a difficult man to hit when you look at the deception he creates.
The fastball has been his most consistent pitch thus far, but like all pitchers, secondary pitches are crucial. For Ramos, his change-up may be the best of all his pitches as it not only sits in the 87 MPH range, but completely falls off the table, making hitters look foolish at times. Ramos is also working on a slider right now where if that becomes even serviceable, it gives him the chance to start. For now, look for him to be a middle relief type of an arm with the potential to be more.