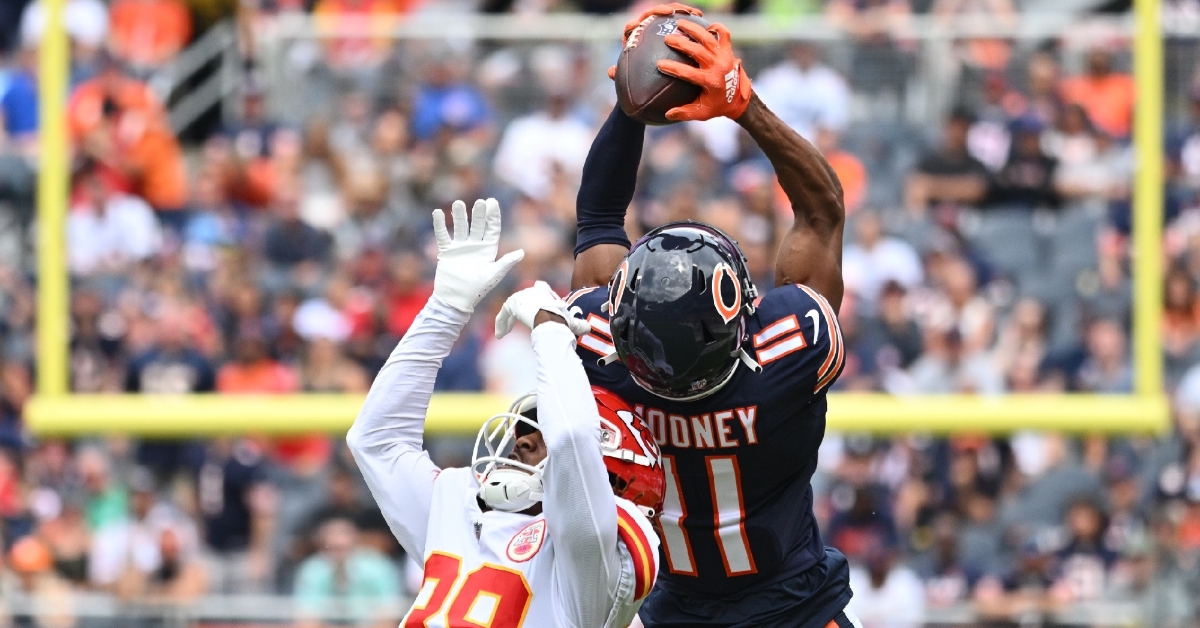 | | |
| --- | --- |
| 2022 Season Report Card: Darnell Mooney, Claypool, St. Brown, Pettis | |
---
For the Bears offense to take that next step and become a lethal unit, they will need a lot more production in the passing. That all starts with the Wide Receiver position, as they didn't do enough in this offense this season.
Granted, Ryan Poles could have brought in better options and signed a ton of players to one-year deals. Even at that, it is up to the players to make the most of that situation, and there were a few times when you could count on a WR to make a play.
Look for the Bears to invest heavily in the WR market this offseason, as this is the one area of the offense that needs to be fixed quickly.
Fresh off a 1000-yard season in 2021, Mooney entered the 2022 season as the leading man for Justin Fields. When you look at the chemistry those two formed, you can see why the Bears expected big things from him. Instead, Mooney had his worst year as a pro picking up just 493 yards and two scores. He was also injured late in the season and missed the last month plus, but he had a rough year.
Grade C-: Mooney didn't perform as well as anyone hoped his season, but it wasn't all his fault. The Luke Getsy offense didn't work this season, and the passing game suffered because of it. Mooney was held in check most of the season apart from one game, and then got hurt late in the year. Look for a bounce back in 2023.
Chase Claypool
The Bears were very aggressive on the trade front this season, but mainly unloading their players. They did acquire Claypool from the Steelers, as this pickup is more about the future next year and beyond. Brought into the offense very slowly, Claypool failed to reach 200 yards with the Bears, which is a slap in the face to him. He is a better player than that and knows it.
Grade D: This grade is not entirely on him, but he does need to shoulder some of the blame. Granted, the coaching staff didn't put him in the best spots to succeed; he didn't give them a reason to be given those opportunities. With a normal offseason next year and a chance to build some chemistry for Fields, Claypool could be an X-Factor in this offense next season.
Equanimeous St. Brown
The former Green Bay WR followed Getsy to town and inked a one-year contract last offseason. Loaded with potential, St. Brown had issues with drops in Green Bay which was a big reason they released him. Hoping to prove his worth, St. Brown had 323 yards and one touchdown. It was another lackluster season for a player loaded with potential.
Grade D: Expectations were not sky-high for St. Brown, but many felt he would be better than this. At times, he was the primary option for Fields, and when that happens, you have a serious problem in the passing game. He is a classic example of a player loaded with potential and possibly never reaching that potential.
Dante Pettis
Another WR inked to a one-year deal this offseason, Pettis broke out in week one, and that was about it. He did have three touchdowns which was a positive sign, but with just 245 yards receiving, he was another player failing to meet expectations.
Grade C: Pettis will get a better grade than St. Brown, mainly because he wasn't expected to do as much on the field. Yet, you could argue that he produced more than St. Brown because of the TD scores. Depending on the price, I wouldn't be surprised to see the Bears bring him back for another season and see if he can bring more to the table.
Chicago also had Byron Pringle, N'Keal Harry, and Velus Jones at the WR position, as those three combined for just over 300 yards and four scores. Their combined grade would be a D-, but Jones would receive a C- given his kick return ability and potential to be a big play threat in this offense.