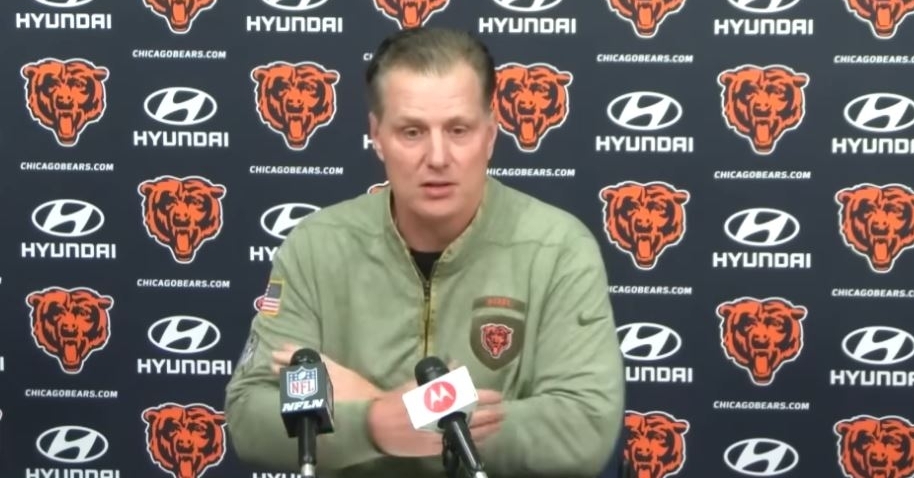 | | |
| --- | --- |
| Eberflus on OTAs, new playmakers in Chicago | |
---
| | | |
| --- | --- | --- |
| Thursday, May 25, 2023, 1:12 PM | | |
CHICAGO - The Chicago Bears started Organized Team Activities (OTAs) on Monday, May 22.
Second-year head coach Matt Eberflus is satisfied with the progress the players have made so far, even though not all of them are in attendance since this is voluntary.
"From individual, all the way to the team periods, coaches are on the same page. They understand what the expectations are, what the standards are," Eberflus stated. "The players understand that. This is the second time going through it. There's nothing like experience. Just going through it a second time together, I think it's very helpful."
The practice has emphasized a few different key areas so far.
In particular, each OTA concluded with a two-minute drill. This was not exactly a strong suit for Chicago last season, who sometimes came up short during key times in games, such as in their contest against the Miami Dolphins last season. Some of these problems were from a lack of playmakers, an issue that has been dealt with, but also a lack of execution.
"We've done two two-minutes already at the end. They were both end of half," Eberflus explained. "We'll continue to do that every practice to end the day, and I think it's valuable for our team, and you pretty get the end of half every week, you know, in this league. And obviously, end-of-game stuff comes around most weeks. So, we want to be very proficient in that area."
Bringing in these playmakers has affected the culture inside Halas Hall. The players are excited about the team and what these different players bring to the table.
Eberflus argued that they are all "Chicago Bear type guys," adding to the culture that general manager Ryan Poles is also trying to develop.
"When you bring guys that are playmakers, I think guys get really excited about that when you bring them into the building. So, you can feel that a little bit," Eberflus said. "And then just them working together, you know. We're going to bring in good guys that like to work hard, that love football, that are tough, and they're Chicago-Bear type guys for sure. We're going to do that. We're never going to bring somebody that's not that way."
On offense, the biggest name was unquestionably wide receiver DJ Moore.
Given the receiver woes Chicago had last season as the league's worst passing offense with only 152.8 passing yards per game, in addition to a torn ACL for top receiver Darnell Mooney and other various injuries with Equanimeous St. Brown and mid-season acquisition Chase Claypool, Moore's addition was necessary. He received a four-year contract for a little under $62 million.
"It's pretty rare when you got a guy that can run the route, have the route discipline that he has," Eberflus explained. "Also, that speed and talent that he has. So, we're excited about where he is right now."
On defense, the Bears added a prominent leader, linebacker Tremaine Edmunds, who was a Pro-Bowler back with the Buffalo Bills. Poles also secured him long-term with a four-year, $72 million contract. Edmunds has two brothers in the NFL, Terrell and Trey, who both play for the Pittsburgh Steelers.
Their father, Ferrell Edmunds, played for seven years, with his first five with the Miami Dolphins before finishing his career with the Seattle Seahawks. Coming from a football family as well as a highly successful team in the Bills, he is bringing his knowledge and skills to Chicago and impressing coaches with his command.
"He really takes command in the defensive room, and he gives great suggestions, and he's very smart," Eberflus argued. "Obviously (he) has the size and the range and the speed and all those things physically. But I would just say - leadership."
Eberflus also took the opportunity to voice his opinions about the NFL's new fair catch rule. Effective for this upcoming season, when a fair catch is called from the 25-yard line or behind, the ball will automatically be moved to the 25-yard line. This rule change is meant to benefit the players by reducing the possibility of concussion. The defensive-minded coach had an interesting take on the rule change.
"I think it will change, tactically, what teams are going to do because the rule is in now. There's nothing you can do about it. But, it will change," Eberflus said. "I think you'll get more squib kicks. I think you'll get more drop kicks, more drive kicks, those types of things, and make guys return it. I suspect you'll see more returns."
Perhaps these tactical changes will come to light in the preseason. However, they will be on full display in the first week of the NFL season. The Bears open up the season with their rivals, the Green Bay Packers, at home on Sunday, September 10. Overall, Eberflus likes the schedule the Bears have, particularly because of the two Thursday Night Football games.
"I think it's positive, you know because you look at two Thursday games that are five games (apart), game five and game 10," Eberflus explained. "So, you really have two mini-byes, and I think that's a real big positive for us. It gives us a little break after five games and after ten games, and then we play two games after that."
There has been a lot of conversation about quarterback Justin Fields graduating from Ohio State recently with his degree in Consumer and Family Financial Services. However, one thing Eberflus pointed out while talking with the media is that another Chicago Bear also recently graduated from college - tight end Cole Kmet.
Kmet graduated shortly after Fields, receiving his degree in Political Science from the University of Notre Dame.
"It's great - (Fields) and (Kmet). You know, so we presented those guys in the team meeting with a game ball," Eberflus said. "So, I think it's an important accomplishment for those guys to go back and do that and get their degree, and it's a good example for the other guys that haven't got their degree yet. So, we certainly encourage all those guys to do that. But, certainly, congratulations to Justin and Cole."