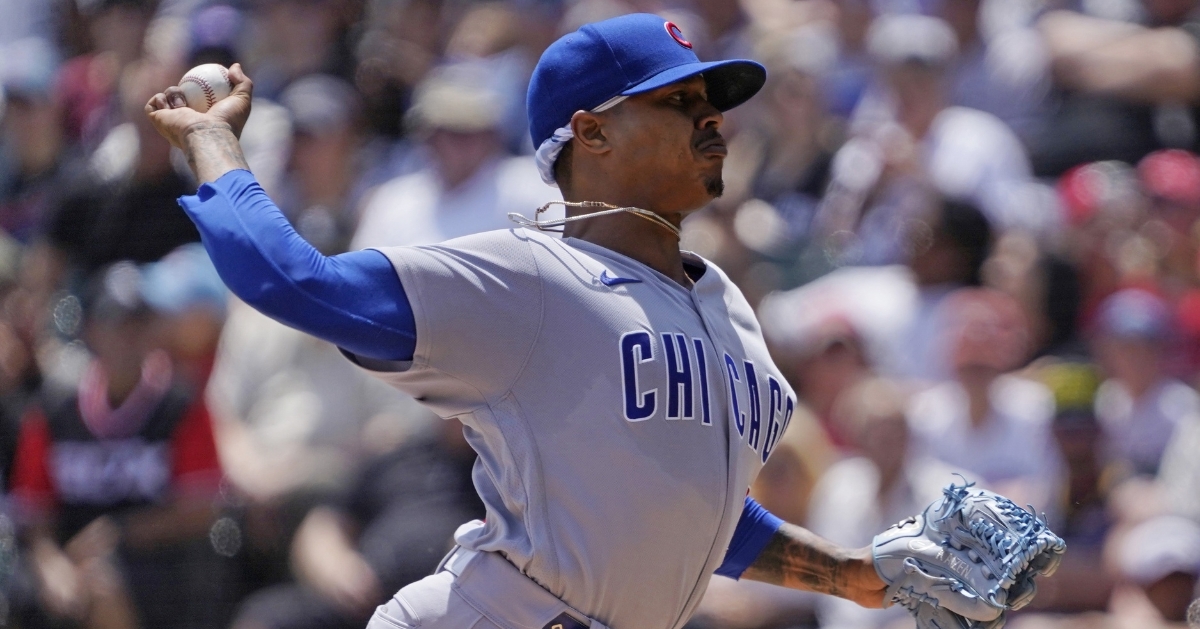 | | |
| --- | --- |
| Predicting the 2023 Cubs Pitching Rotation | |
---
| | | |
| --- | --- | --- |
| Monday, January 23, 2023, 8:43 AM | | |
The Cubs most recent era has been known as a hitting era, and pitching was never at the forefront of the farm system or of the future plans. Of course the organization boasts the best Canadian arm of all time in Fergie Jenkins, one of the best pure pitchers ever in Greg Maddux, a historic run from Jake Arrieta, and other excellent pitching performances from Rick Sutcliffe, Kerry Wood, Carlos Zambrano, and Jon Lester to name a few.
But the issue with the Theo Epstein and now Jed Hoyer era, which has been well documented, is that the Cubs promised to be a player development machine and instead turned into an organization that threw money at pitching problems. The easiest indication of this disparity between pitching and hitting came simply on the 2016 World Series Championship roster — that core contained numerous homegrown hitters (Kris Bryant, Kyle Schwarber, Willson Contreras, Jorge Soler, Albert Almora Jr. to name a few) and zero homegrown pitchers. In fact, the only homegrown pitcher on the roster entirely was Rob Zastryzny, who pitched only 16 innings that season.
The Cubs spent their prime window of contention, spending more than half of their payroll on pitchers acquired from outside of the organization, like Jon Lester, Jason Hammel, John Lackey, Cole Hamels, Jose Quintana, Yu Darvish, Tyler Chatwood and more. So when Epstein left the organization ahead of the 2020 season, it seemed like Jed Hoyer really wanted to flip the script on the organization's misfortune — and start developing pitching.
Hoyer has done a good job so far, and the Cubs finally find themselves with some depth in the starting pitching department. The best part is, they have players at each level: proven big leaguers, young contributors, and prospects.
So let's break down the candidates for the Cubs' starting rotation by category:
Proven Starters: Kyle Hendricks, Marcus Stroman, Drew Smyly, Jameson Taillon
This category is the easiest to break down. First and foremost, Kyle Hendricks will be a mainstay in the Cubs rotation as long as he is a Cub. However, Hendricks is coming off of an injury riddle campaign that when he pitched, he struggled — so his health will be something to watch.
Stroman was the Cubs big-ticket acquisition last offseason and closed the season with a 2.71 ERA in his last 14 starts, so he will certainly be in the rotation. Smyly was impressive last season as well, so much so that he re-signed ahead of this season. Lastly, Taillon was signed after a strong season in New York and slots to be in the rotation as well.
Young Contributors: Justin Steele, Keegan Thompson, Javier Assad, Adbert Alzolay, Adrian Sampson, Alec Mills
This group is where you start to see the Cubs' depth. For starters, Justin Steele made 24 starts last year and sported a .98 ERA in the second half of the season across seven starts. I would be shocked if we don't see the left-hander in the rotation. Thompson had a strong 2022 season, leading the Cubs in wins. The right-hander made 17 starts and 12 trips from the bullpen, and just because of sheer numbers, I would expect to see Thompson out of the bullpen in 2023. Sampson and Assad flew under the radar but were very reliable for the Cubs. Sampson made 19 starts and had an ERA of 3.11 — and Assad started 8 times and accumulated the same ERA. Neither will blow you away, but I can see both playing big roles in 2023, either as a long reliever or a spot starter for the Cubs. Finally, Alzolay and Mills. Despite having more starts than anybody in this category and a No-Hitter to his name, Mills' injuries likely peg him to start the season in the minor leagues or off the Cubs roster. Alzolay was one of the Cubs' most highly anticipated starters, but his return from injury left him in the bullpen — which is where I imagine we see him in 2023.
Prospects: Hayden Wesneski, Caleb Kilian, Ben Brown, Cade Horton, Jordan Wicks, Jackson Ferris, Ryan Jensen, Kohl Franklin
Opposite of proven big leaguers, this is the hardest to project. The Cubs have raved about Brown, Horton, Wicks, and Ferris, but it appears likely that we will not see any of them in the majors on 2023. Jensen and Franklin are in the Cubs' top 30, and it would not shock me to see either of them on the team in 2023, but it would have to come after injuries or a big trade — they aren't expected to be on the major league roster out of spring training. That leaves Wesneski (who the Cubs acquired in the Scott Effross trade) and Caleb Kilian (who the Cubs acquired in the Kris Bryant trade), and both made some starts last season. The Cubs like Kilian's stuff, but he faced some struggles last year. Meanwhile, Wesneski was impressive, including an immaculate inning, and had a 2.18 ERA in four starts. Wesneski likely will start the year in Triple-A, but he may be the first to get the call up the bigs in 2023.
Prediction Time!
Starting Rotation
Stroman
Taillon
Hendricks
Steele
Smyly
Left in the bullpen: Assad, Sampson, Thompson, Alzolay
Left in the minors: Wesneski (majors if Hendricks is still injured), Kilian, Brown, Horton, Wicks, Ferris, Jensen, Franklin, Mills

Tags: Chicago Sports Baseball
,
Jake Arrieta
,
Jon Lester
,
Kris Bryant
,
Kyle Schwarber
,
Willson Contreras
,
Jorge Soler
,
Albert Almora
,
Rob Zastryzny
,
Jason Hammel
,
John Lackey
,
Cole Hamels
,
Jose Quintana
,
Yu Darvish
,
Tyler Chatwood
,
Kyle Hendricks
,
Marcus Stroman
,
Drew Smyly
,
Justin Steele
,
Keegan Thompson
,
Javier Assad
,
Adbert Alzolay
,
Adrian Sampson
,
Alec Mills
,
Hayden Wesneski
,
Caleb Kilian
,
Jordan Wicks
,
Ryan Jensen
,
Kohl Franklin
,
Scott Effross
,
Theo Epstein