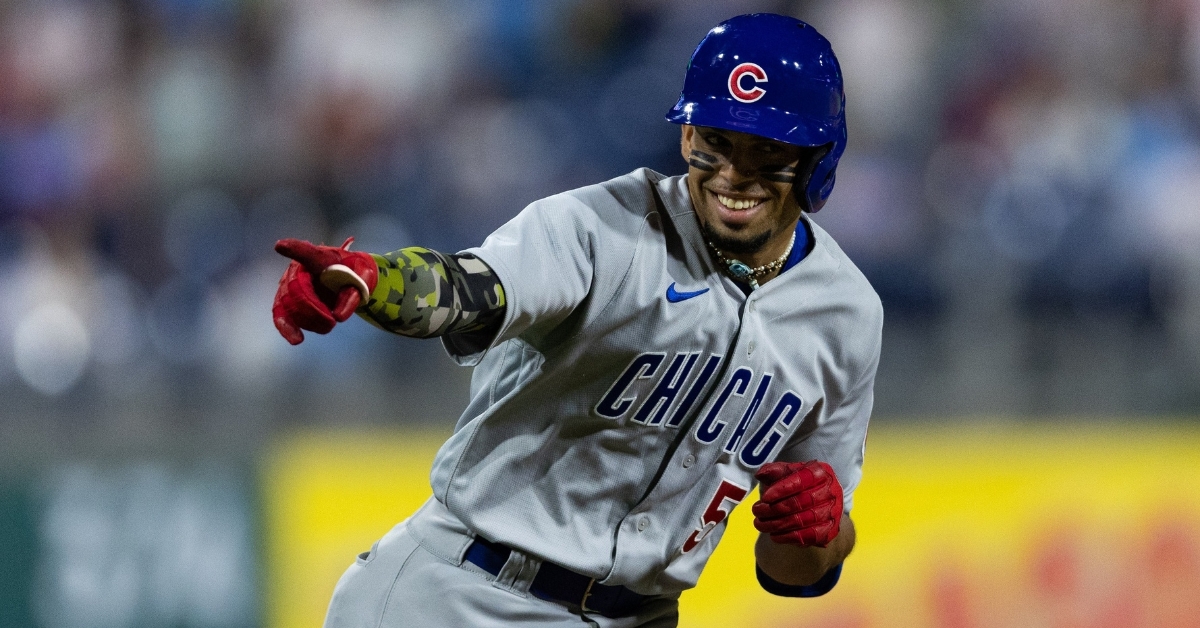 | | |
| --- | --- |
| Morel Boost: Cubs fans and team embrace young star | |
---
| | | |
| --- | --- | --- |
| Thursday, May 25, 2023, 2:31 PM | | |
There was a lot of clamoring over the first month of the season to call Christopher Morel up to the big leagues.
For starters, last season, when he was brought up from the minor leagues to join the Cubs, he instantly became a fan favorite. From homering during his first MLB at-bat to his relationship with Willson Contreras, there was a lot to admire from the youngster.
He also started his MLB career with a 22-game on-base streak and provided the Cubs with positional versatility in a lineup that desperately needed it, as Morel played second base, shortstop, third base, center field, and left field.
As the season progressed, he certainly faced his share of struggles both at the plate and in the field — but it definitely appeared that Morel was poised to play a big role in whatever future plans the Cubs were carving out.
He finished his rookie season with 16 home runs and 47 RBI, to go along with 10 steals and an OPS of .741.
Fast forward to the offseason and the Cubs made a lot of noise, including signing Dansby Swanson, Cody Bellinger and Trey Mancini and extending Ian Happ and Nico Hoerner, moving Nick Madrigal into a third base position battle with Patrick Wisdom — which cut Morel's line to playing time at third base, shortstop, second base, left field and center field as well as limited the at-bats the Cubs could give him at designated hitter.
When you put it that way, you could understand how Morel was kept off the big league roster to begin the season: allow him to get every day at-bats and put in lower leverage work all over the diamond defensively.
However, when Mancini and Madrigal, and Wisdom faced their struggles, Bellinger got injured, and players like Miles Mastrobouni, Edwin Rios, Luis Torrens, and Eric Hosmer fail mightily to reach their potential — the fanbase started to create chatter for an exciting young player to rejoin the team.
But for the first month of the season, the Cubs didn't budge.
Making it even harder for the Cubs to say no, in Morel's 29 games in Iowa, the slugger clubbed a team-high 11 home runs and drove in 31 runs — over one run per game. He was hitting .330 and slugging .730, completely dominating the minor leagues.
He did the one thing that no coach, scout, front office member, or fan can ignore: HIT.
So the Cubs did what they had to do, cut ties with some struggling veterans, and carved out a role for Morel in the majors, and boy, has he excelled.
He has hardly been back in the big leagues for two weeks, but in 12 games, the Dominican Republic native has homered nine times — including five games in a row for the first time in a Cubs uniform since Sammy Sosa more than two decades ago.
Christopher Morel - Chicago Cubs (9)
pic.twitter.com/om16ylC013

— MLB HR Videos (@MLBHRVideos) May 24, 2023
"He's got some serious power," Cubs Manager David Ross said. "It's pretty obvious if you've been watching, what he can do. He's a threat. As soon as he steps in the box, he's in scoring position. He hits the ball as hard as anybody. The ball just doesn't come down. He gets it in the air and makes contact. It's loud.
"He's a big, big energy piece for us, and obviously, what he's doing it's pretty amazing. I don't think I've seen many men do this."
Needless to say, Morel's start to the 2023 season has been historic. Not to mention, the 23-year-old has been a huge boost to a faltering lineup that desperately needed a spark. Morel has kickstarted the offense back into gear as the Cubs look to inch back toward .500 as the season wears along.
It goes without saying that Morel's scorching performance is bound to cool off eventually. But, his powerful presence in the lineup has been a welcome addition and one that the Cubs can and should count on to produce over the course of the 2023 campaign.