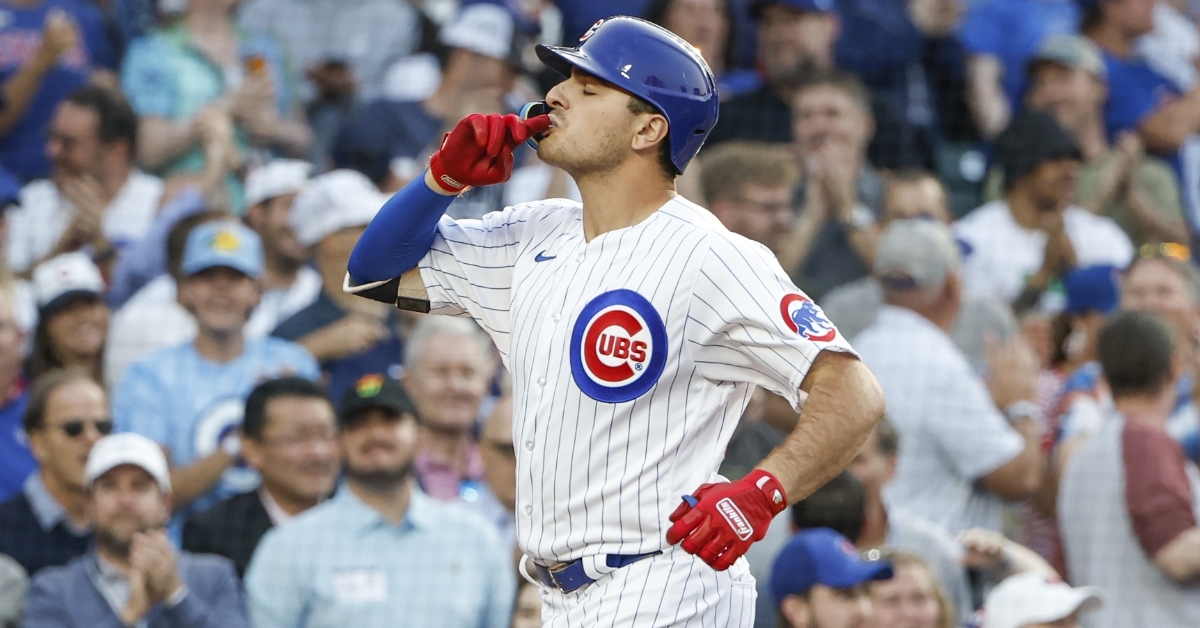 | | |
| --- | --- |
| Morel, Mervis show power in win over Mets | |
---
| | | |
| --- | --- | --- |
| Wednesday, May 24, 2023, 7:26 AM | | |
CHICAGO - Despite entering Tuesday's contest at Wrigley Field with the best run differential in the NL Central, the Chicago Cubs (21-26) are currently a third-place club as their inconsistencies and inability to win close games have been an issue all season. There are some positives to take away from this, and they can thank the rest of their division for it, as their poor play as of late hasn't hurt them too much as they remain in the middle of the division race.
With a grueling 19-game stretch set to begin, including a nine-game homestand that started with the New York Mets (25-24) on Tuesday, what better way to turn things around than by delivering some home cooking? Led by the savvy veteran Drew Smyly on the mound and the kids Christopher Morel and Matt Mervis, the Cubs got off to a fast start and used it to propel themselves to the 7-2 victory.
Say what you want about the Cubs record. This team is better than what their record shows, and you can point to the starting staff as an indicator, with three of their starters ranking in the top 15 in ERA. Two are in the top six, and both are left-handed pitchers, with Smyly being one of them. Smyly has been a revelation in the Cubs rotation, and he has put that on full display this season as he improved to 5-1 with a 2.93 ERA.
Pair that with Justin Steele; the two southpaws are a combined 11-2 with a 2.59 ERA. Those numbers will win you a lot of games, and more often than not, the Cubs win when those two start. Smyly was in for a tough matchup on Tuesday as he doesn't strike out a ton of batters and faced off against a Mets team that doesn't strike out at the plate. To New York's credit, they made Smyly work as he lasted just five innings, but it was five very good innings as he allowed two runs on five hits with five strikeouts. Both runs came from Pete Alonso as he left with a comfortable lead.
Taking the ball for the Mets was the younger brother of former Cub Trevor McGill as Tylor McGill was looking to continue his strong start to the season. McGill wasn't at his best and labored through 3 2/3 innings as he was charged with six runs, with four of them earned. Not only did the Mets have an opportunity to strike first with Brandon Nimmo leading off the game with a double, but it was also one of the rare scoring chances they would have against Smyly as they forced him to throw 25 first-inning pitches only to come away empty.
That can't happen in the MLB, and the Cubs made sure the Mets would pay for that as their bats came to life in the second inning. First, one of the hottest hitters on the team Seiya Suzuki, came through as he took the high fastball from McGill and drove it over the center field fence to give the Cubs a 1-0 lead.
Seiya Suzuki - Chicago Cubs (6) pic.twitter.com/6FAfx9ySXU

— MLB HR Videos (@MLBHRVideos) May 24, 2023
They never looked back, with Morel working a walk shortly after and then coming home to score on the infield single from Yan Gomes.
Already in front 2-0, it was Mervis coming through to deliver the big blow as his opposite-field two-run shot opened the game up with the Cubs leading 4-0 after two.
Matt Mervis - Chicago Cubs (2)
pic.twitter.com/JEkTqDurUz

— MLB HR Videos (@MLBHRVideos) May 24, 2023
Given how Smyly pitched this season, a four-run lead should be more than enough as he was dialed in again. While the Mets wasted an opportunity to score in the first, they wouldn't in the fourth as Alonso took it upon himself with his major league-leading 18th homer to put the Mets on the board.
That was one of the lone bright spots for New York on the night as the Cubs were at it again in the fourth with Mike Tauchman reaching base on a leadoff error. Three batters later, it was Mervis coming through again and using an RBI single to make things 5-1. For Mervis, this was his best game as a Cub, as he drove in a career-best three runs while also reaching base three times.
His single was followed by singles from Nico Hoerner and Dansby Swanson, with Swanson making things 6-1. An Ian Happ would load the bases, but the Cubs would come up empty as Dominic Leone got Suzuki to ground into an inning-ending groundout. Cruising along through five innings, Smyly ran into big trouble in the sixth as the Mets had a chance to make things interesting.
Singles from Nimmo and Eduardo Escobar led things, with Francisco Lindor taking a walk to load the bases for the Polar Bear Alonso. With one swing, Alonso had the capability to pull the Mets within a run. Credit Jeremiah Estrada for going right after him as he got Alonso to ground into a force out to make things 6-2. Whether it be Estrada, Julian Merryweather, or Mark Leiter Jr, the trio buckled down when in trouble the next few innings and kept the Cubs in front 6-2, entering the bottom of the seventh.
It was in the Cubs half of the seventh when Morel made more Cubs history as he teed off on Stephen Nogosek for his ninth homer in 12 games and a team-record homer in five straight games putting the Cubs in front 7-2.
Christopher Morel - Chicago Cubs (9)
pic.twitter.com/om16ylC013

— MLB HR Videos (@MLBHRVideos) May 24, 2023
That makes 20 combined homers for Morel in AAA and the MLB as he continues to show his start to the season hasn't been a fluke. Michael Fulmer pitched a scoreless ninth to seal the deal for the Cubs.
"He's got some serious power," Cubs manager David Ross said after the game. "It's pretty obvious, if you've been watching, what he can do. He's a threat. As soon as he steps in the box, he's in scoring position. He hits the ball as hard as anybody. The ball just doesn't come down. He gets it in the air and makes contact, it's loud.
"He's a big, big energy piece for us, and obviously what he's doing it's pretty amazing. I don't think I've seen many men do this."
For the most part, the Cubs played a great game as they were 4-13, with runners in scoring position and Mervis reaching three times. However, some players may be riding the bench once Cody Bellinger returns. Patrick Wisdom comes to mind as his fantastic start to the season is a distant memory. Wisdom failed to get a hit and went 0-4 with four strikeouts, as his average has plummeted to .220.
The Cubs will look to clinch a series victory tomorrow when they send Marcus Stroman to the mound against Kodai Senga.

Tags: Chicago Sports Baseball
,
Drew Smyly
,
Christopher Morel
,
Justin Steele
,
Seiya Suzuki
,
Yan Gomes
,
Nico Hoerner
,
Ian Happ
,
Jeremiah Estrada
,
Mark Leiter
,
Patrick Wisdom
,
Marcus Stroman